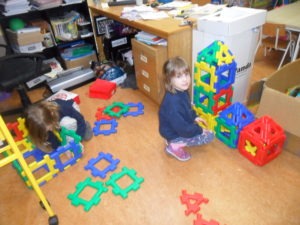 This month's Aistear theme is 'My Locality'. The children have been learning about the different buildings and places in the locality and the various jobs that people do.
In the Art Corner the children have been making street scenes from coloured paper, posters to protect the local environment and junk art buildings that they have spotted in the locality. Frank O'Neill was our guest speaker this month as he is on the Tidy Towns Committee. He told us all about how we can keep our locality clean and tidy.
They have been playing as builders in 'The Construction Site' at the Sand Table and they also experimented with magnets.
In Small World the children have been building towns and villages from Lego and the wooden boards. They also played with the Doll's House, designed and built a park from Lego and played with the toy garage and fire-station.
In the Home Corner the children took on different roles in 'The Hospital', 'The School', 'The Cafe', 'The Post Office' and 'The Fire Station'. They loved learning about the different jobs that people do.
In the Construction Corner, the children built a town and a police station. They also made buildings from Polydrons and experimented with objects that could be pushed or pulled.