Mrs Senior's Blog
April:
Rathmichael had great fun with Pancake Day this year. The PTA pulled out all the stops and flipped pancakes all morning to everyone's delight. Each child brought in €2 and the proceeds went towards Crumlin Hospital. This is part of our Global Citizenship Flag where we work towards helping others in the wider community.
Our new nets went up around the Astro Turf. We have been afraid that one day one of our many balls was going to cause an accident on the Dublin Road. Health and Safety is always our first priority. We are relieved to have them there. Many thanks must go to the PTA and their fundraising for paying for these.
Natasha Stanley is going to Romania with her school to build houses. We helped her raise money towards this trip by holding a RED day on Valentine's Day. Children could wear red or hearts into school instead of their uniform. She will return to an assembly and tell us all about her trip. Natasha supplied us all with biscuits which were delicious. Many thanks Natasha. We here at Rathmichael wish her the very best with her venture.
Children these days have so many opportunities. They are very lucky to be able to go abroad so easily. I hope they appreciate the help their parents give them to avail of all of these.
Our new PE coaches from Southside School Sports started with us in February and we are delighted with the energy and enthusiasm they bring with them.
I would like to take this opportunity to thank June Lawless and her team for all their work with Afterschool Games over the years. June has been invaluable, reliable and so very capable. We will miss her in Rathmichael and have really appreciated all the work she has done for the school. I have a feeling she will still be seen knitting and sewing with the teachers!!
There was a ceremony held on 7th March to open the new pitches on Stonebridge Road. This has taken a long time and the schools will be extremely grateful to have them to play their matches. The area was originally zoned for business and after many meetings it was re-zoned for Parks. Well done to all involved for achieving so much.
March:
The Credit Union ran an art competition. Ellie Mcdonald won first prize in this winning a family pass to the Zoological gardens.
They had previously run an art competition in conjunction with Shankill Traders. In this we had three four winners, Poppy Miller, Max Lawless, Olivia Carroll and Ellie Mcdonald. Poppy won a camera at this time.
6th Class entered a quiz which the Credit Union sponsored for schools. This was enjoyed by all.
Our M3 money saving club is also run by the Credit Union and is very popular.
Well done Core Credit Union on all you do for the schools It is very much appreciated. Getting involved with the local community is important in our school. Indeed it is part of our Global Citizenship Flag.
We held our own handwriting competition in the school to promote neatness, good punctuation and clarity. We hold this twice a year and it has proved to be very popular throughout the school. Children who are making great strides with their writing are also encouraged as we have prizes for each class for most improved.
This year we held an Adult Quiz as a fund raiser in Shankill Tennis Club. This was well attended and great fun. Niall Carty, a parent, went to enormous trouble putting questions together and unfortunately for him has a job for the next4/5 years!! Well done to the PTA for the refreshments and organisation involved. Getting people to attend fundraisers can be a very difficult task, however usually everyone has a good time and certainly the school benefits each time. Thank you all my amazing volunteers.
February:
Fields of Life
Every month we collect money for Fields of Life to sponsor two children, Caleb and Rebekah, for their education in Uganda. Previously we have sponsored children and they have gone on to become an electrical engineer and a lawyer. This is part of our Global Citizenship Flag which we are trying to attain this year. A group from Uganda came touring to Ireland and Scotland to promote Fields of Life and to get sponsorship. They performed for the school and spoke about the children we support and have supported. It was a lovely experience for the school showing the children what our collections are all about and making it real for them. Hopefully we will continue to do this for a long time.
Volley Ball/ Soccer
John Scottus Secondary School and ourselves teamed up for a project this year. The Transition Year students came and played Volleyball and Soccer with our 5th, 6th 2nd and 3rd classes. This was a great experience for them showing responsibility and respect for the different age groups. We were tremendously lucky with the weather and the children looked forward to it every week. I would like to thank John Scottus School for this opportunity and hope to liaise with them again in further projects.
Don Briggs
Don Briggs, author of 'The Boy who wanted a Dragon' came to visit the school with his illustrator. He has been to the school before. This time he promoted his new book 'The Return of the Dragon'. This he sold at the school for €10 and all proceeds went to Temple Street Hospital. We have recently renovated our library and are trying to have authors in and to promote it with the children. We hope to have a few more over the next few terms.
Art and Wine
We held our annual Art and Wine. The theme this year was 'Fairytales' which was in keeping with our new library. The children displayed wonderful artwork and there was a lovely atmosphere on the night. Well done PTA and teachers on the evening.
Drama
Drama and music are a huge part of Rathmichael School. Both 4th Class and the Infant Classes put on shows for the parents and the school. They were of a very high standard and great thanks must go to the staff and Naomi, our Music Teacher for this. They appear to get better and better each year.
December:
We have had a rather active month. We are working on our Global Citizenship Flag. Towards this we collected shoeboxes for Team Hope. This has become an annual event. A wonderful display of over 150 shoeboxes arrived into school on 8th Nov. They were covered in Christmas Paper and families in the school had gone to great lengths to fill them over the midterm break. It is lovely to see the children thinking of others at this Christmastime and also to see the great enjoyment and satisfaction it brings to everyone.
Thinking of our own local community we collected items of non-perishable foods for Harvest this year. We delivered this to the local association SOFA (Shankill Old Folks association). Each member went home armed with a bag of goodies from the school. The produce also helps with occasions and festivities held in the centre over the next few months. Again a time of giving, remembering those worse off than ourselves. We at Rathmichael are particularly lucky and are in a positon to help others and so we should when we can. A good thing for children to learn.
We held a Dress Up Day at Halloween which was a lot of fun. Staff and children entered into the spirit of the occasion. The PTA held a bake sale, also dressed up, joining us with our theme. Sometimes it's just good to feel good and have some fun!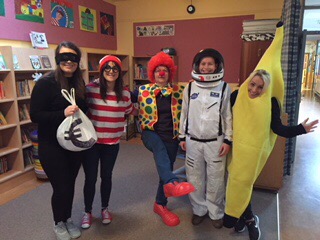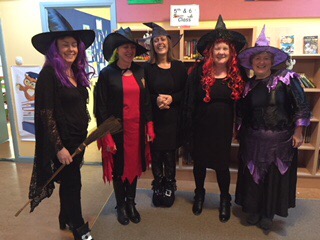 November:
Some of our children entered the handwriting competition for the Community game on behalf of Shankill earlier in the summer. Ruby Geelon, Charlie Geelon and Daniel Murphy won medals for their respective categories in the Dublin Finals. They were sent forward to represent Dublin in the National Finals at the end of August. Ruby Geelon took the silver medal for all Ireland. We are very proud of them all.
5th Class entered a competition run by the local Gardaí. This was to celebrate and promote Social Inclusion. We are delighted that Alannah Jackson was a winner and was presented with a medal in Dunlaoghaire Garda Station. Well done Alannah!
The Sponsored Walk took place on Sunday 8th October in Carrickgolligan Wood. It really is a lovely event and the children love running around the well supervised course. Well done PTA for your superb organisation. Lovely to see so much support and happy faces.
At the Rathmichael Church annual Harvest our junior choir sang beautifully. The school enjoys being part of this occasion. Coffee and a sale of goods were held in aid of Christian aid following this service.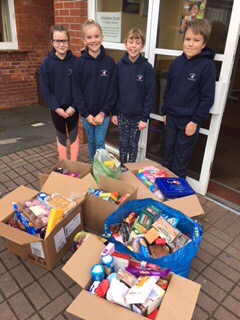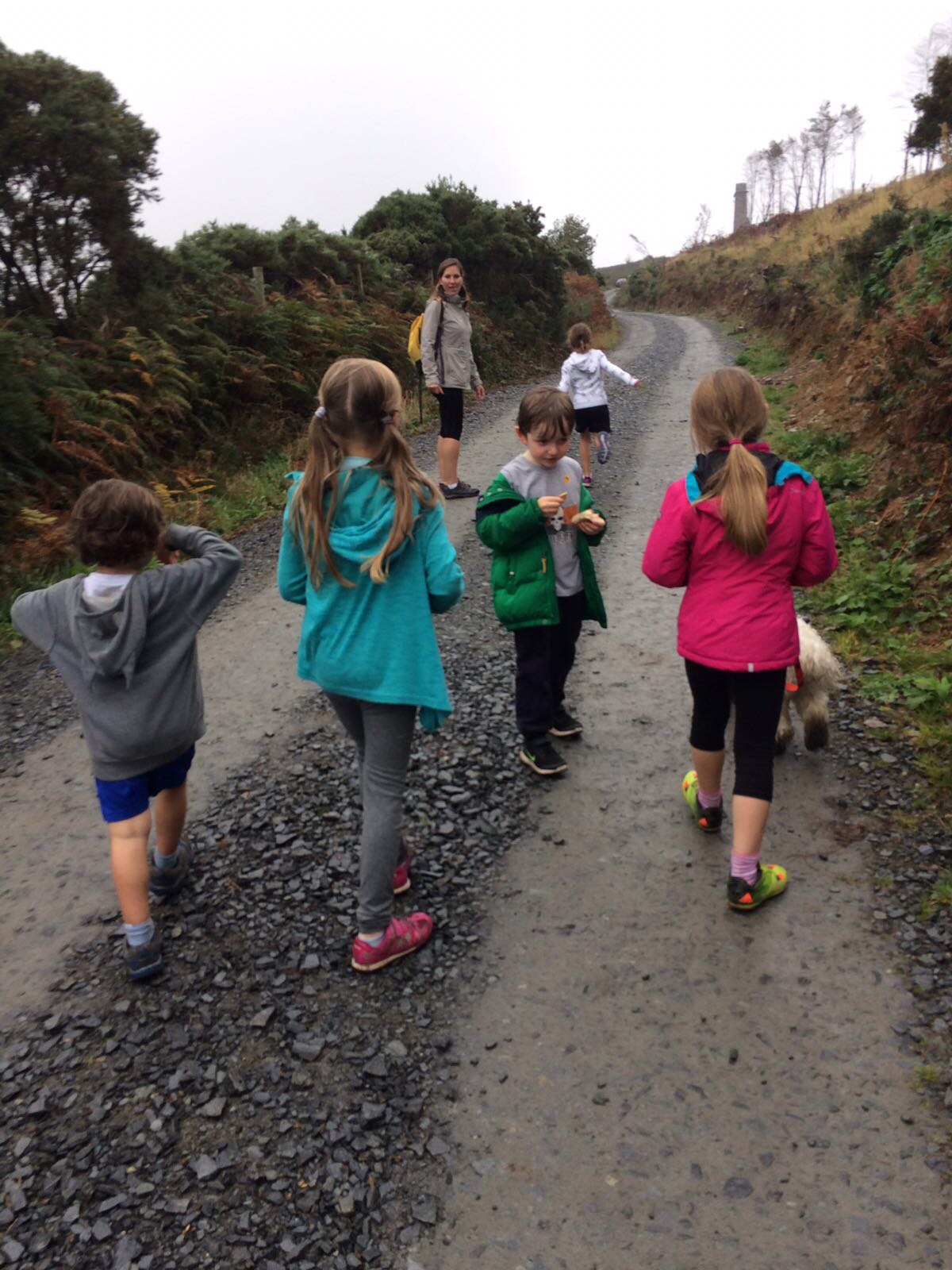 October:
Welcome back to a new school year. Teachers and pupils have all changed classes and a new positive energy is in the school. It is a time for us all to settle. Thank you for everyone's support on this matter.
I am pleased to announce that our football team of 2016/2017 won both the school's League and the Cup. A huge effort goes into our after school games by our coaches and leaders and we must remember that most of this happens due to their commitment. Well done all those who took part over the year. Even if you didn't play on the day you were part of the journey.
A hockey match took place on our pitch between the parents and 6th class. This was great fun and enjoyed by all. I'm not sure who enjoyed it the most. There was a lot of competitiveness. Amazing to see the skills we have both with the parents and the children. I even saw one or two teachers out there giving their all! It was fun.
The most loved event of the year for the children took place in June. That was the Summer Dance. The children arrived all glammed up and ready to dance. Sam Stott, a previous youth leader with us, led the music and he was kept on his toes by the children. The dancing never stopped and cool pops were a necessity. Well done to the PTA for organising and supervising this.
Sport's day took place and as usual went smoothly with a barbeque organised again by our PTA. We had great weather and were well supported by our parents.
Our annual Rathmichael Fete took place with numbers well up above normal. The good weather brought everyone out including many we haven't seen for a long time. Let's hope they make it a tradition for the future. Well done to the organisers. A fabulous social occasion all of Shankill look forward to.
Now to 2017/2018. Look out for all our news!
Caroline Senior